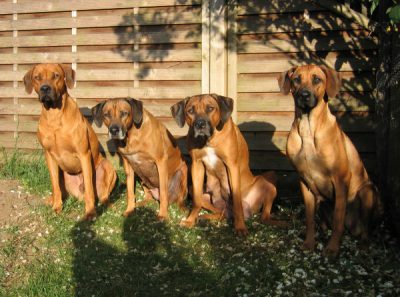 Dansk version:(English version at the bottum)
Kennel Kuzonga's blev godkendt i marts 2001. Kuzonga betyder noget lignende "oprindelse" eller "begyndelse" eller sågar "opstandelse". Vi bor i Kolding ca. 45 minutters kørsel fra den tyske grænse.
Den første ridgeback i Kennel Kuzonga's var en han ved navn Sigurd, født 2. juli 1997. Sigurd var en stor kærlig dreng, og han havde at opfylde mors drøm om at gå lydigheds prøver, men han syntes egentlig ikke om det. Han var på nogle få udstillinger og endte sågar op med at blive 2. bedste han engang. Han blev steriliseret efter en allergisk reaktion overfor Baytrill. Sigurd blev 13 år og 2 måneder!
Den anden ridgeback in kennelen var Issa, fulde navn Hunting Choir's Issa, født 17. december 1998. Issa var en "en gang i livet hund". Hun kunne deltage i alle slags hunde spor. Vi prøvede lure coursing, agility, spor (både DcH spor og schweiss spor) og lydighed. Da hun var 10 år gammel stiftede hun også bekendtskab med Rally lydighed, og opnåede sågar titlen Rally Begynder mester. I 2001 kvalificerede vi os til Danmarks mesterskaberne i lydighed, i klasse 2. Dette var kun den 2. ridgeback nogensinde. Den første var Issa's morfar "Jiba" (Kitoto Azizi Bakela). Issa fik også titlen FP (færdselsprøve) somen af de to første ridgebacks i Danmark, hun var sågar den første ridgeback til at få titlen UHP (udholdenhedsprøve). Issa blev avlstæve ved at føde vores A, B og C kuld, alt i alt 31 hvalpe. Heraf 2 dødfødte. Issa døde i April 2009, godt 10 år gammel.
Fra vores A kuld beholdte vi vores 3. RR og første af egen avl. En hanhudn ved navn Auri – fulde navn Kuzonga's Aurelijus. Auri var født d. 2. april 2002. Han var den første Ridgeback nogensinde som opnåede titlen BPB (begynder B) og som hans mor tog han udholdenhedsprøven. Auri var en god avlshan, og havde 121 hvalpe (fra 12 kuld) blandt dem nogle champions, men endnu bedre mange arbejdshunde og agility stjerner! Auri døde i April 2015, 13 år gammel.
Fra vores B kuld beholder vi en tæve ved navn Sjalle – fulde navn Kuzonga's Bayana J'Adore. Sjalle var fælles ejet med min kære ven Susanne Bay Jakobsen indtil hendes død i juni 2006. Sjalle blev solgt med hensigten at blive schweiss hund – blodspors hund. Sjalle var en virkelig god spor hund, men blev nemt fristet af vildt. Sjalle havde titlen LP1 og nogle rally titler, samt UHP. Sjalle ville nok have været Rally Champion med en anden fører, men jeg har altid lavet kaos til prøver. I januar 2003 blev Sjalle Tysk Veteran Champion (DEVETDHCH) after nogle forsøg på at få det sidste cert, sluttede hun i "grand style" veda t blive bedste veteran i Nürnberg. Sjalle ar 2. avls tæve i kennelen. Hun var mor til vores D og E kuld (i alt 16 hvalpe) og hun fik først og fremmest hvalpe med et fantastisk sind. Sjalle døde i Maj 2016, knap 11½ år gammel.
Fra vores C kuld beholdte vi den mindste hvalpe nogensinde født i kennelen (på det tidspunkt). Det var en tæve ved navn Cike – fulde navn Kuzonga's Cirkeline. Cike var født d. 26. juni 2005. Cike har været udstillet mere end vi normalt gør, og hun har gjort det rigtig godt. Fra hendes 1. til 5. tyske cert benyttede hun blot 9 udstillinger, og vandt 6 "fulde" certer. Dette gjorde hende til tyske Champion (DEVDHCH) den 23. april 2007. Som de fleste af vores hunde, havde Cike udholdenhedsprøven og en enkelt rally titel. Cike var mor til vores F, G og H kuld, i alt 29 hvalpe. Cike var KLOVNEN, den sjoveste hund man kan forestille sig. Cike døde desværre alt for tidlig d. 23. december 2014. Hun led af en infektion i tarmene som vi forsøgte længe og med mange forskillige medikamente at behandle, men desværre uden held. Cike død i December 2014, 9½ år gammel.
Fra vores D kuld beholdte vi en tæve i fælleseje med Iben Ellerbæk. Dette var Cheyenne, med fulde navn Kuzonga's Dear Memory of Sus. Selvfølgelig skulle hun hedde noget for at ære Susanne. Cheyenne er den sødeste og gladeste hund man kan forestille sig, og ser også ganske godt ud. På hendes første udstilling nogensinde, uden træning, blev hun BIS baby. Senere fik hun adskillige Excellent og klasse vinder, og løb flere gange med om certet, men desværre uden nogensinde at vinde det. Cheyenne blev beholdte som "sikkerhed" hvis Cike ikke skulle udvikle sig godt nok til at blive avlstæve, hvilket Cike heldigvis gjorde. Det betød jeg ikke "manglede" Cheyenne i it avls program, så efter noget tid blev Cheyenne ejerskiftet til Iben. Cheyenne lever stadig, 10 år gammel, i Juni 2016
Fra vores E og F kuld beholdt vi ingen hvalpe, da man iflg. dansk lovgivning kun må have 4 hunde.
Fra G kuldet beholdte vi en tæve ved navn Gasira – fulde navn Kuzonga's Gasira. Desværre udvikede hendes ridge sig virkelig dårligt, og hendes kroner blev mere og mere offset, så jeg besluttede mig for at sælge hende, og hun blev solgt som redningshund.
Fra H kuldet kunne vi ENDELIG beholde en lille pige. Det blev Holly – fulde navn Kuzonga's Holly CikMa. Holly blev "lavet" med frossen sæd. Noget jeg aldrig har prøvet før. Det var en fantastiske oplevelse og Cike var fantastisk hele vejen igennem det hele. At vi fik 11 (!!) hvalpe (desværre to dødte) var ikke helt hva jeg havde regnet med. Holly er min lillle "prinsesse" – min lille yndige ting. Akkurat som Sjalle da hun var ung, er Holly lidt reserveret overfor fremmede. Med mennesker hun kende – voksne eller børn -er hun totalt tosse. Hun ved ikke noget bedre end hendes bold, hendes egen og hendes sæl. Legetøj naturligvis. Holly have præsteret både en BIS baby (på FDA udstillingen i Stepping) og en BIS2 hvalp på national udstilling i Århus. På skuer har hun også en BIS hvalp og en BIS junior. Hun opnåede også at blive bedste baby/hvalpe tæve i RRK. Holly synes spor er noget af det bedste i verden. Hun elsker det, og hun er da også gansek god til det. Hun skal desværre "slæbe" mor med for enden af snoren, og på prøver er det ikke altid en god kombination. MEN, vi har bestået 3 timer / 400 meter schweiss prøve 4 gange, med 2. og 3. præmier. Ja og vi bliver ved til vi får en 1. præmie! 🙂 Holly blev i januar 2015 mor til vores I kuld, Holly er i dag 4½ år gammel (juni 2016)
VORES AVL
Jeg har gennemgået DKK's opdrætter uddannelse. Hvilket logoet nederst på siden bekræfter.
Endvidere har jeg taget noget af uddannelse som træner (DCH) og for nogle år siden afsluttet ringsekretær uddannelsen, hvilket vil sige at jeg arbejder på små og store udstilling med at skrive for dommerne. Altid spændende og lærerigt! 🙂
Vores mål er at opdrætter ridgebacks med en smule ekstra!! Selvfølgelig skal de være sunde i både fysisk og psykisk. De skal også ligne en ridgeback. Men jeg forsøger også at lave ridgebacks som geren vil arbejde! Så er jeg næsten ligeglad med hva type arbejde! Om det er at træne spor, lydighed, agility, jagt, ja eller sågar lure coursing. Jeg tror ikke alle ridgebacks er lige arbejdsivrige. Ved at se på mine egne hunde bliver jeg bekræftet i dette. Nogle vil hellere arbejde end andre, og ja, de GIVER det videre!
Vores hunde vil altid have de krævede sundhedstest, og for det meste mere end "bare" det krævede. Vores hunde vil f.eks. være testet for DM, Dilute og EOAD.
Lige nu har vi to hunde, to skønne tæver. Mor og datter. Det er Holly og Icala
Vi træner hos Bobas Hundeskole

English version: UPDATED 26th June 2016
Kennel Kuzonga's was approved as a kennel name in FCI in early 2000's. Kuzonga means something like "origin" or "beginning" or even "raising". We are living in Vamdrup, a small city by Kolding, about 45 minutes' drive from the German Border.
The first ridgeback in Kennel Kuzonga's was a male named Sigurd. Sigurd was a big sweet boy, he has to forfull "mums" dream of going to obedience trials, but he really didn't think it was something. He went to a few shows, and even ended up 2nd best male one time, but then was neutered due to a allergic reaction to Baytrill. Sigurd got 13 years and 2 months!
Second ridge in the kennel was Issa – full name Hunting Choir's Issa. Issa was a one in a lifetime dog. She was able to take part in every kind of dog sport. We tried out lure coursing, agility, tracking, and obedience. When she was 10 years old she also tried rally obedience. In 2001 we qualified for Danish Champion ship in Obedience, in obedience class 2. This as the only 2nd ridgeback ever. The first was Issa's grandfather "Jiba" (Kitoto Azizi Bakela) Issa also got the FP title as one of the 2 first RR's in Denmark, and she was the first in DK to get the UHP (endurance title). Issa got brood bitch be giving birth to our A, B and C litter, all in all 31 puppies. Of them 2 stillborn.
From the A litter we kept out 3rd RR and first own bred. A male name Auri – full name Kuzonga's Aurelijus. He was the first RR ever to take the BPB (working dog title) and like his mum he took the endurance trial (UHP). Auri is a proven stud, with 121 puppies (in 12 litters) among them some champions, but even better, lots of working dogs, and agility stars! Auri is when writing this still alive, and almost 13 years old (February 2015)
From our B litter we kept a female named Sjalle – full name Kuzonga's Bayana J'Adore. Sjalle was co'owned with my dear friend Susanne Bay Jakobsen until her death in June 2006. Sjalle was sold with the purpose to get "schweiss hund" – blood tracking dog. She is a really good tracking dog, but she easy gets tempted by the wild on the tracks. Sjalle has a obedience title (LP1) and some rally obedience titles. She probably would have gotten Rally Champion with another handler, but I always mess around in the trials. In January 2013 Sjalle got German Veteran Champion (DEVETVDHCH) after some attempts to get the title. She ended it with style by getting BOB Veteran in Nürnberg. Sjalle was the 2nd female in breeding in the kennel. She is mum of the D and E litter (all in all 16 puppies) and has produced first of all puppies with outstanding mentality! When writing this Sjalle is still alive and good 11 years old (February 2015)
From our C litter we kept the smallest puppy ever born in the kennel. This puppy being a female named Cike – fullname Kuzonga's Cirkeline. Cike has been shown more then we normally do, and she has done well. From her 1st till her 5thGerman CAC she only used 9 shows, winning 5 "full cac's". This making her German Champion (DEVDHCH) on 23rdApril 2007. Like most of our dogs Cike got a endurance title (UHP) and she also has a rally title. Cike was mum to the F, G and H litter, all in all 29 puppies. Cike was THE CLOWN, the most funny dog you can imagine. Sadly she passed away only 9½ years old on December 23, 2014. She suffered from an infection. We tried for long, and with much different meds to get it under control, but sadly failed L
From the D litter we kept a female in co-ownership with Iben Ellerbæk. This Cheyenne with the fullname Kuzonga's Dear Memory of Sus. Of course she had to be named something to honor Susanne. Cheyenne is a happy sweet girl, and pretty good looking. On her first show ever, totally untrained, she managed a BIS Baby! Later on she has several Ex and class winners, and several times ran for the CAC, sadly without ever winning one. Cheyenne was kept as a safety if Cike shouldn't develop well enough for a breeding bitch, which she luckily did. That did mean I didn't "need" Cheyenne in my breeding program, so after some time, Cheyenne was transferred to full ownership of Iben.
From the E and F litter we were not able to keep a puppy, since Danish regulations only allow 4 dogs in the name.
From the G litter I kept a female named Gasira – full name Kuzonga's Gasira. Sadly her ridge decided to developed really bad, and her crown getting more and more offset, so I decided to part from her, and she was sold for training as rescue dog.
From the H litter we FINALLY was able to keep a little girl. This was Holly – full name Kuzonga's Holly CikMa. Holly was "made" by frozen semen. A think we had never tried before. It was a fantastic experience, and Cike was so fantastic during it all. That we than got 11 (!!) puppies (sadly 2 stillborn) was not really what I had though. Holly is my little "doll" – my little pretty thing. Just as when Sjalle was young, Holly is a little reserved toward stranger now. With people she knows – kids or old – she is crazy! And she doesn't know anything better than her ball, her squirrel and her seal. Well Toys! J Holly has managed both a BIS baby (On the FDA Hunting show in Stepping) a BIS 2 puppy at the National show in Århus, and at the unofficial shows she has a BIS puppy and a BIS youth. She also managed to get Baby/Puppy female of the year in the Danish RR club. Holly thinks tracking is some of the best things in the world. She loves it, and well, she is also good at it. She sadly has do "drag" her mum with at the end of the leash, and at trials this is not always a good combination. BUT, we have passed the 3 hours / 400 meters blood tracking test with a 3rd price, and we will keep on trying till we get a 1st price 🙂 Holly will hopefully be our 4th breeding bitch in 2015.
OUR BREEDING
I have done the Danish kennel club (DKK) education as a breeder. Which the sign at the bottom of the page shows.
Furthermore I have done most of the education to dog trainer, and some years ago finished the education as ring secretary, which mean I'm now and then working and smaller and bigger shows writing for the judges. A very educated job often! And always exciting.
Our aim is to breed ridgebacks with a little extra! Of course they must be healthy both in body and mind. And they also should look like a ridgeback. But with I like to try, is to breed ridgeback that wants to work! Then I almost doing mind what kind of work! If its tracking, obedience, agility, hunting, yeah or even lure coursing. I think not all ridgebacks have equal workability. When looking at my own dogs, I get confirmed. Some more like to work then other, and yes, they DO pass it on!
Our dogs in breeding will always have the required heath test, and mostly much more than "just" the required. Our dog will be tested for DM, Dilute and EOAD.
Right now we only have two female, and that's Holly and her daugther
Updated June 2016. On 5th of January 2016 Kuzonga's I litter was born. It wasn't planned at all, hadn't even though about it, but w keep Kuzonga's Icala after "Cain" and "Holly".