UHP BPB Kuzonga's Aurelijus
Sire: INTCH SCH NCH FINCH DKCH NORDCH SV-01 FINV-01 WW-02 Rex Ventors Akeron
Dam: LP1 LP2 UHP FP Rally-B Hunting Choir's Issa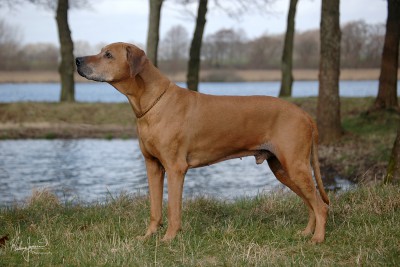 Nearly 13 years of age on this photo!
Pedigree number: DKK 07592/2002
Born: 02.04.2002 Dead: 27.04.2015
Height: 66 cm Weight: 36,5 kg
HD: A (free) ED: 0 (free) OCD (shoulders): free
Complete Scissor bite Thyroid: normal Heart: free
DM: N/N (free) Dilute: Dd (carrier) EOAD: Clear
Liver: B/b (carrier) JME : will follow
Mentality test Gunshot proof (1)
Winner of CACIB and CAC's
Owner and breeder: Jo-Ann Nielsen
Auri's homepage: www.aurelijus.dk
Auri is from a litter of 9 correct puppies. 7 of 9 has been x-rayed and all free.
Auri has (November 2009) sired 12 litters. Never a ridgeless puppy and in 121 puppies only one with DS. Never a puppy with bite fault or testicle faults.
Frozen semen available for suitable bitches
Sire of junior-champions and champions as well as many working dogs.
Litter statistic:
Born litters: 12
Born puppies: 121 – 67 males and 54 females (average 10 puppies)
Correct puppies: 96
Ridgeless: 0
Dermoid Sinus: 1
Ridgefaults: 10 (2 x 1 crown, 5 x 3 crowns, 3 x offset)
Tailfaults: 11
Bitefaults: 0
Testicle faults: 0
Colour faults: 3
Stillborn puppies: 6
Puppies to sleep: 1 (female with DS)
Livernose: 8 (4 males and 4 females)